Toyota President Apologizes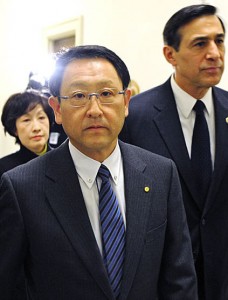 Today, was the hearing day for Toyota President, Akio Toyoda and some other representatives of the company. During the hearing process, he seemed to be very apologetic about the Toyota's safety defects .
"We always stop and try to understand the problem. We never run away from a problem or pretend we don't know about it," claimed the owner of the company, in front of a panel of lawmakers.
In a time when the company has recalled approximately 8 million vehicles around the world, he assured the lawmakers that the immediate measures to repair the problems have already started and the so-called 'SWAT teams' are accredited to investigate vehicles within 24 hours of complain form.
A sorrowful Toyoda, further continued by saying, "I will do everything in my power to ensure that such a tragedy never happens again". "My name is on every car. You have my personal commitment that Toyota will work vigorously and unceasingly to restore the trust of our customers."
He also expressed certainity that after the repairs are done, Toyotas will still remain the most safest on the road. During his short speech he expressed his condolences over the fatal accident caused by the acceleration problem, which took the life of four family members, in San Diego.
Jim Lentz, president of Toyota Motor Sales USA, said that "There are many factors that lead to it, however, dealerships are working around the clock to make repairs.