Is Your Toyota Affected By The Recall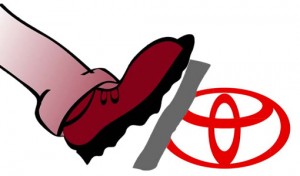 The number of Toyota's vehicles affected by the acceleration defects, is large and includes some of the best- selling cars in U.S and Canada .
If your car is one of them, then you are going to expect a recall letter from Toyota, by the end of this week.
However, this doesn't mean that all models are affected. For example, Toyota Prius, Solara, Lexus Division or Scion, Venza, Yaris, 4Runner, some Camry models, Highlander hybrids and Land Cruiser, are not affected.
Where as those affected are :
2007-2010 Tundra,
2007-2010 Camry,
2009-2010 Corolla,
2009-2010 Matrix,
2005-2010 Avalon,
2010 Highlander,
2009-2010 RAV4s.
Toyota urges owners to visit Toyota.ca to make sure their VINs are scheduled to be recalled. Those who are looking for more information could contact their  local Toyota dealership to better inspect their vehicles and provide appropriate assistance they need.
If you happen to experience a sticking acceleration pedal, smoothly try to controlll your car by firmly and steadily pressing the brakes. Just make sure to  pull over to a save place and contract a Toyota dealer to explain the situation.
In spite the fact that acceleration pedal may get back to normal, do not take the risk and further drive it. Wait for a tow car to be sent by Toyota and take the cat to a local Toyota dealership. If the defect fits into recall conditions, that the tow and repair work done on the car would be free your you.
Toyota investigators have identified and diagnosed the accelerator pedal problem. They further confirm the safety and effectiveness of the newly modified or changed pedals.
As far as the time allotted to fix the defect, Toyota representatives confirm that nearly an hour is needed to repair it. If they require you  to leave the vehicle for an unspecified period of time, than ask them to provide a rental car. Once contracted to pick up the fixed car,  you could ask for driver's side floor mat to be changed because it is part of the recall.